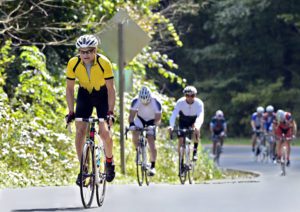 A cyclist is recovering after being hit by a car on Tuesday, March 25. The man was riding his bicycle with a group of other cyclists, wearing reflective clothing. He also had blinking lights on his bike, as did other riders. Despite being visible, he was still struck. Here is what happened in Senoia, Georgia according to reports.
A group of 30 bicyclists was out for their normal ride. The man and three other people were at the back of the group, eventually separating from their friends. It was when they had separated that a car became impatient and attempted to pass the group on their left. The vehicle passed too closely after sounding its horn multiple times. The man heard the vehicle accelerate past his friends who were riding behind him and then he was struck.
The car hit the man with enough force to knock its passenger-side mirror off. The driver then sped away. The man said that the car's driver never applied brakes or slowed to see if he was okay. The man suffered injuries to his hip and elbow and had back pain from falling on the ground. He hit his head on the pavement but was wearing a helmet which prevented serious injury.
The man is thankful to still be alive, but hopes that the accident serves as a message to other drivers. Cyclists have a right to the road as much as anyone else, and passing involves giving cyclists at least three feet of room. Police believe they have identified the man who struck the cyclist, and he is facing several charges as a result of the accident.
If you have been the victim of a hit and run driver, reach out to our team of experienced accident attorneys. We will review the details of your accident and advise you of your legal options.