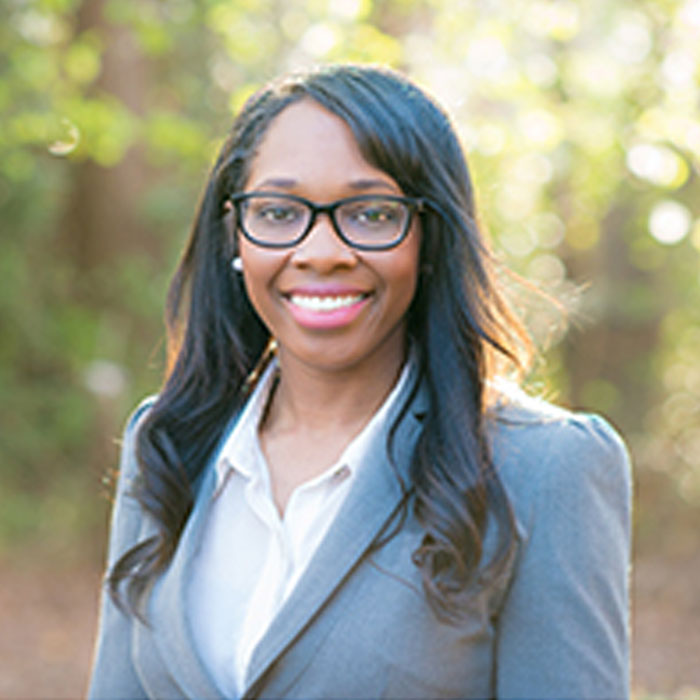 Senior Associate Attorney
8237 Dunwoody Place
Atlanta, GA 30350
Miya Royal is an Atlanta personal injury lawyer. She has lived in the Metro Atlanta area for majority of her life. She will soon be celebrating two years of marriage with her loving husband. Outside of work, Miya enjoys lifting weights and exercising with her husband.
Before attending law school, Miya found her calling by interning for a personal injury attorney in Macon. Through client interaction and hard work, she knew instantly that she wanted to pursue a career in the legal field.
Miya pursued her undergraduate degree at Wesleyan College, located in Macon, Georgia. While attending school at Wesleyan, Miya shined in her studies, but also on the soccer pitch. Although she lost a bet and was compelled to try out for the soccer team (for the first time in her life), Miya fell in love with the sport and even started at Striker for the Pioneers for an entire school year.
After receiving her B.A. from Wesleyan College, Miya enrolled at the Walter F. George School of Law at Mercer University. While at Mercer, she participated in the Black Law Student Association (B.L.S.A.) and excelled in Trial Advocacy. Miya also completed an internship while in law school with a prominent criminal defense attorney in Macon. Her love and passion for representing real clients only increased.
After law school and passing the Georgia Bar, Miya began her legal career by working for multiple legal contracting companies who specialized in assisting the Department of Justice in Washington D.C. Her work in D.C. included handling complex litigation issues involving the Deepwater Horizon oil spill, Hurricane Katrina, and tribal trust legal matters, to name a few.
Miya gained valuable trial and litigation experience in D.C. that will prove to be a solid foundation for where she is taking her legal career next.
Towards the end of 2016, Mrs. Royal returned to her hometown of Atlanta to practice in civil litigation, and specifically in personal injury. She feels that she has truly found the sweet spot in her profession and wants to continue representing injured clients for the balance of her legal career.
Miya enjoys fighting hard for her vulnerable clients so they are rightfully compensated for what they deserve.
Request a free consultation today and get the justice you deserve.
Contact Us