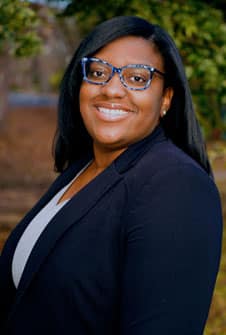 Associate Attorney
8237 Dunwoody Place
Atlanta, GA 30350
Born and raised in Buffalo, New York, Somalia Dixon is an Atlanta personal injury lawyer. She wanted to be an attorney since she was a child, and her parents supported her aspirations from a very young age. She attended SUNY Buffalo State where she majored in Criminal Justice with a minor in Legal Studies. After working as an Insurance Agent for a major insurance Company, she moved to Atlanta to attend law school. Somalia received her Juris Doctorate from Atlanta's John Marshall Law School, where she was a Peer Mentor and Treasurer of the Black Law Students Association. Somalia also received the CALI Award for Legal Writing and later became a Legal Writing Teaching Assistant.
Somalia's journey with the Haug Law Group began as an intern during the summer of her first year of law school. She later excelled in a law clerk position and accepted an Associate Attorney position upon passing the Georgia Bar Exam. As a previous insurance agent, Somalia has been able to combine her insurance background with her legal experience to exceed the expectations of her clients. Somalia advocates to achieve the best results for her clients during negotiations and throughout the litigation process.
Outside of work, Somalia enjoys reading, traveling, and spending time with her husband and three daughters while exploring their new city! She is also an active member of her church and is passionate about working within the youth department. Although Somalia is not a huge sports fanatic, she is a Buffalo Bills fan and enjoys watching the games and tailgating with friends when she is in Buffalo.
Request a free consultation today and get the justice you deserve.
Contact Us