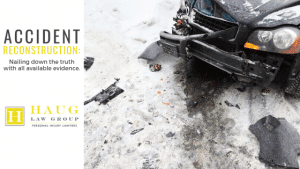 We sat down with Shelly Weed, accident reconstruction expert to see what she has to say about accident reconstruction and how it benefits a personal injury case. Shelly is the founder and owner of WREC, an accident reconstruction firm located in Smyrna, GA that provides crash reconstruction, crash data retrieval, and FARO 3D laser scanning services. Before starting WREC, Shelly served as a Sandy Springs Police Officer, and became 1 of 50 people in all of Georgia to receive the ACTAR certification. Combined with this prestigious achievement, Shelly also has 17 years of accident reconstruction under her belt.
Naturally, she is a credible resource for providing information regarding the process involved in accident reconstruction and the valuable benefits it provides to a personal injury case. Shelly and her company have worked with the Haug Law Group on several cases during the years they have worked together, and we are extremely grateful for their partnership. Keep reading to learn what Shelly and her partner Amber have to say about accident reconstruction.
What is accident reconstruction?
Shelly: Accident reconstruction is the process of investigating a collision, analyzing all available evidence, and then ultimately forming an opinion about a crash. Accident reconstruction addresses the who, what, where, when, and sometimes why an accident happens.
What is the purpose of accident reconstruction in regard to a personal injury case?
Amber: The purpose is to get to the truth, assess what happened during a particular collision, and ultimately help an attorney take the right direction with a case. With accident reconstruction, an attorney can choose the right strategy and have an informed conversation with their client. The bottom line is these accidents happen in milliseconds, the victims have substantial injuries and are personally involved, meaning we can't rely solely on witness statements. PI attorneys are able to collect evidence in a completely impartial view and form an opinion that way. The purpose is broad, but the purpose varies depending on the case.
What equipment does WREC use during an accident reconstruction evaluation?
Shelly: We use FARO 3D laser scanners to map the collision scene as well as map and preserve the evidence on the vehicles involved. We also have a BOSCH EDR toolkit, which is a crash retriever tool that images air bag control modules inside passenger vehicles. We primarily utilize our 25-foot camera poles to get aerial shots of the scene. We also use several types of software to ensure our jobs are done properly and thoroughly.
How does accident reconstruction provide additional value to a clients' case, when compared to a case that does not use accident reconstruction?
Amber: Accident reconstruction makes a huge difference in a case in that it informs settlement discussions and can even help an attorney determine if a case should go to trial or not. Bringing a case to trial requires extra time, and sometimes financial investment, from a client. Accident reconstruction adds the most value to a case when it allows an attorney to find the truth without the hassle of going to trial. Getting a settlement and avoiding trial means a client gets compensation for their injuries and property damage more quickly and may ultimately have a more positive experience with their case.
Can you provide specific examples of cases in which accident reconstruction made a difference in the case?
Shelly: I was retained by an attorney to take a look at a pedestrian case. The pedestrian was on his way to class, standing on the sidewalk. Ultimately, I was able to locate the vehicle that hit the student and image the "black box" of the vehicle. The report detailed the speed of the vehicle, accelerator position, braking, etc. So, with the information that I was able to get out of the vehicle, the retaining attorney was able to show the negligence of the driver and obtain a substantial settlement for the pedestrian who sustained life-threatening injuries because of this.
Amber: We were able to show that the driver was speeding, and that they were on the accelerator. We were also able to show that the statement the driver made was not true based on the report from the vehicle.
The Bottom Line
The truth is the sole identifying factor that determines the result of a personal injury case. With accident reconstruction, the Haug Law Group can more accurately assess a case and ultimately find the truth. The sooner accident reconstruction is applied to a case, the better, so as not to lose any evidence from the accident. If you've been injured in an automobile accident, reach out to us today!