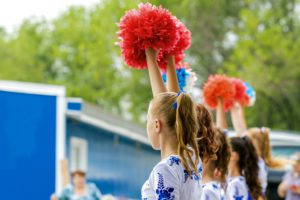 It didn't happen in Atlanta, but it could have. In recent national news, a young cheerleader is seen with her face contorted in pain as a coach pushes her leg down, forcing her to perform a split. The teenager begs the coach and her teammates to stop. The incident occurred in Denver and is being investigated as child abuse.
An investigation was launched after a video of the incident surfaced. Nobody has been charged as of yet, but police are investigating the practice that occurred at East High School. Five employees of the school have been placed on leave following the girl's injury: the principal, assistant principal, cheer coach, assistant cheer coach and school system Deputy General Counsel.
The incident took place in early June and the victim is a 13-year-old child. The girl, her parents say, was forced into a split because she wasn't flexible enough to perform one on her own. Girls who weren't able to perform splits were in danger of being cut from the squad. As a result of her injuries, the child sustained injuries to her ligaments and muscles in the groin area. Although the parents had approached the principal immediately following the event, it wasn't until they released the video publicly that the school system took any action.
The Denver School Board issued a statement that said, in part, "…challenging our students should never compromise their health and safety, or their personal consent."
If your child has been injured during sports practice or play in Atlanta, you may have a case for a personal injury lawsuit. Call our team of experienced attorneys today for a free case evaluation and learn more about your legal rights.