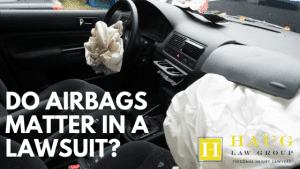 We have all been accustomed to the notion that airbags and seatbelts will always protect us if we are in an accident. However, this is not always the case. While it is practical to depend on an airbag for protection in a car accident, sometimes an airbag fails to deploy, or it can even deploy without being necessary. Regardless of the case, the car and/or airbag manufacturer could be held responsible for your injuries, accident or not.
Depending on the situation and/or severity of the collision, the airbag may or may not deploy. One reason the airbag did not deploy could be that the airbag sensors were not struck or triggered during the collision. For example, the airbags in the front of your car are expected to deploy in collisions affecting the front bumper or corners of your car. Another reason the airbag didn't deploy could be that your airbag sensors are defective. When this is the case, it is possible the manufacturer failed to properly design, test, and/or install airbag sensors. This could also be the result of software not being calibrated properly.
The electrical components and wiring elements also play a part in determining exactly why your airbags did not deploy in the collision you experienced. The failure of an airbag to deploy could result from faulty wiring and/or electrical components in your car being defective or installed improperly, which could explain why the trigger for the airbags to deploy was not activated. The electrical signal that tells the airbag to deploy comes from the airbag sensors on your car. When these sensors are wired around tight spaces, there is a greater likelihood for error, which could potentially prevent the airbag from receiving the signal to deploy.
If the airbag is defective, claims for a lawsuit could be centered around design defects, manufacturing defects, or marketing defects. Each of these claims can be used to get you compensated for the injuries you have suffered in an accident.
Just like there are many reasons for why an airbag fails to deploy, there is also potential for filing a lawsuit for faulty airbag deployment. If the airbag fails to deploy, the defendant could still be responsible for your injuries, and there could also be a product liability lawsuit for the airbag's inability to deploy. The manufacturer of the car and/or airbags could be held liable for your injuries from an auto collision. It is best to consult one of our car accident lawyers at Haug Law Group to ensure you receive the representation you deserve.