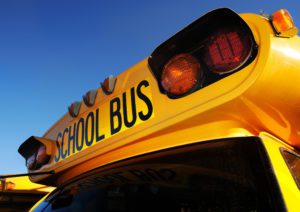 Sharing the road with school buses is a task (and sometimes a hassle) that every driver has to deal with at one point or another. Yet, those buses provide a vital service for our communities, and being in an accident with one can cause injuries to children. Luckily, this wasn't the case in a recent incident.
A school bus was driving down State Route 142 in Covington on Friday. Due to a backup at a nearby intersection, the traffic was stop and go. The bus was struck by a small, brown Chevrolet sedan. No children were on the bus at the time of the accident, and there were no reports of injuries, according to the Georgia State Patrol.
According to reports, the driver of the sedan then turned around and fled in the opposite direction. Someone who saw the incident gave a statement to the Georgia State Patrol that included a license plate number; however, that plate number did not match the description of the car. The sedan driver was vaguely described as a white man with facial hair.
When it comes to hit-and-run incidents, the Georgia State Patrol keeps cases open until enough information is brought forward to conclude the case. Anyone with information about this incident is encouraged to contact Georgia State Patrol Post 46 in Monroe at 770-464-1800.
Hit-and-run accidents are often some of the most confusing to deal with. It can be a struggle to get your insurance to pay for any damage or injury, since the insurer of the driver at fault generally pays these costs. However, it is possible to make sure you get the compensation you deserve. If you've been in a hit-and-run accident in Atlanta, contact the attorneys at Haug Law Group today for a free, no-obligation consultation.