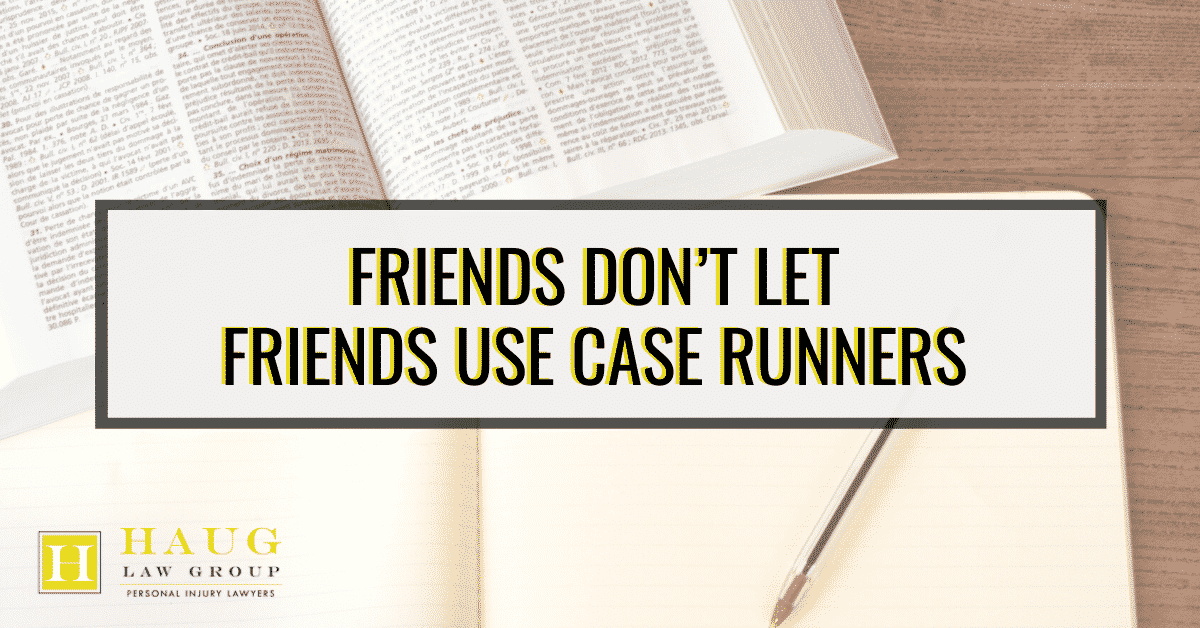 Those who have been involved in a car accident or have experienced another type of personal injury worth filing a lawsuit for usually are not aware of the term "case runner" or "ambulance chaser." However, it is important for all people looking to learn about the legal industry to know about the illegal practice of case running. Make sure you educate your friends and family about case runners!
When it comes to the legality of case runners, they are unethical and illegal in Georgia. Often referred to as "ambulance chasers," case runners are those who specifically look for people that were injured in an accident that could be eligible for a personal injury case. This type of practice is completely illegal in the state of Georgia, yet sometimes, attorneys do not follow the rules. Read more about why case running is so problematic below.
Case running is practiced by individuals that are not attorneys and are considered more as solicitors. These individuals use advertising and solicit case information in order to get more business for law firms and personal injury attorneys. Runners are people that work with, but not limited to, emergency employees, towing companies, medical centers, and police reporting websites.
Typically, case runners are third party and are hired by attorneys under the table. These types of attorneys are not people you will want to work with. The way they take advantage of personal injury victims is done through intense pressure, aggressive communication, and even knocking on your door. This practice is illegal in the state of Georgia.
The way that case runners are able to access your information is through purchase and evaluating public documents, such as police reports. Knowing whether or not you are dealing with a case runner is easy to determine: if you did not give your information to anyone, no one should be contacting you. In some cases, runners will even show up at your door to talk about your potential personal injury case solely because they got a hold of your contact information from someone at the site of the accident, a hospital employee, or even the towing company that took your car from the scene.
If you have been in an accident, it is in your best interest to stay aware of people that could be potential case runners. If you do not give your information out, they will not come to you, and vice-versa. The more you give away information, the easier it is for them to find you and bother you. You do not want to end up signing a contract with a runner because that says a lot about the type of lawyer that hired them.
At Haug Law Group, we do NOT use case runners; we follow the laws of the state of Georgia. If you have been contacted by a case runner, make sure you avoid giving away any information until you hire the right attorney. Some good ways to find lawyers include referrals from friends and family, reading online reviews, and asking lawyers if they actually try cases. Call the Haug Law Group at 1 844 428 4529 (1-844-HAUG LAW) to get a free consultation and to learn all about our attorneys! If you'd like to read more of our blogs, check out our blog page!