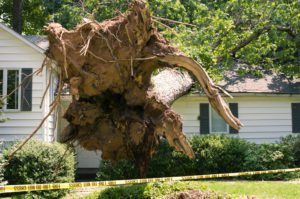 Few people expect to walk past a tree and be injured. After all, trees have deep roots and rarely topple. Unfortunately, trees can be taken off of their foundations faster than people believe. When they fall over, they can cause extreme injury if an unsuspecting pedestrian happens to be walking by. Head and brain injury, broken bones and even, in extreme cases, death can occur when a person is struck by a falling tree.
According to a news report, half of the state was in a drought at the beginning of 2017. At this point in the year, no area of the state remains in drought. While soil that is too dry doesn't give tree roots much to cling to, no one is at danger from trees coming down because of the drought. That won't happen for a couple of years. What citizens of Georgia are in danger of are trees toppling over because of too much rain.
Arborist Christy Bryant, an employee of Gunnison Tree Service, points out that the problems are several: Extra weight of ivy, top heavy trees and shallow root systems all pose a risk. When you add heavy rains to the mix and too-wet soil, it's a perfect storm. Trees can fall over and cause not only injury, but tremendous property damage.
Bryant suggests looking at the trees that surround your home. Remove ivy, look for mushrooms around the roots and prune back dead and heavy branches. When you take care of your trees, you are less likely to see one falling over due to the heavy rains that Georgia has experienced.
If you have been injured by a falling tree in Atlanta, you may be legally entitled to compensation for your medical bills, lost wages and more. Reach out to our team of personal injury lawyers today to schedule an appointment for a free case evaluation.