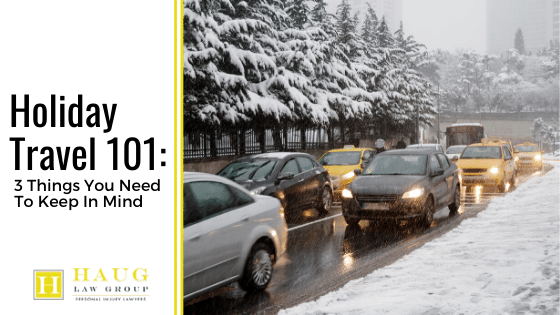 The holidays are a time full of festivities, love, laughter, and giving. However, the holidays are also full of travel! As more and more drivers get on the road this holiday season, it is important that you remember to drive safely. While driving safely is always recommended and expected, the holiday season is an extremely busy time for travel. To avoid any holiday festivity interruptions, make sure you are keeping the following tips in mind when getting on the road this season!
Check Your Tires and Change Your Oil
Keeping your car's maintenance up to date is always important, but it is imperative that your tires have enough air and are not worn down, as well as having your oil changed prior to taking a road trip. You don't want to have to call roadside assistance because your car broke down, nor do you want to get in an accident for things that could have been prevented. Get your car serviced and make sure you have tools and cables in your car for any emergency.
Use Navigation or a mobile GPS application
You have driven to Florida or Tennessee multiple times. You may think you have your route memorized, but it's best to use a mobile GPS application to route your trip. Applications, such as Waze, will route your trip based on current and predicted traffic statuses throughout your drive. It is useful to use a mobile application or your car's navigation system, if it has one, in order to provide your kids with an estimated time of arrival! We all know they will ask, "are we there yet?"
Drive Defensively
The roads might be slick as you drive to your destination, as winter is right around the corner! There is bound to be an increased amount of traffic and winter weather, so it is important that you remember to drive defensively in order to keep yourself and your passengers safe. Keep your distractions limited, meaning do not text and drive, mess around with your music streaming apps, or eat while driving. Make sure you also avoid those impatient, aggressive drivers. It is best to just let them pass by and get ahead of you rather than risking a car accident and injury. To read more defensive driving tips, make sure you visit this blog.
While you may be traveling to get together with friends down the road or family in another state, there is a lot to think about before hitting the road in winter weather. If you are planning to get on the road this holiday season, it is essential that you keep driving safe on your priority list. Grab your smartphone, download a GPS app, bring your charger, and drive safely this holiday season!
Your safety is of utmost importance to us. If you have been in an accident or injured while you were Black Friday shopping, contact Haug Law Group immediately! Our team is here to provide you with a free consultation with any of our qualified personal injury lawyers. We will fight for you and your safety!