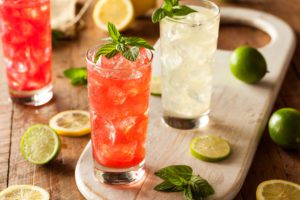 It seems as though summer just started, but Labor Day is almost upon us. The holiday signifies the official end of summer, even though the weather may not agree. For many families, Labor Day either means back to school or that the new school year is in full swing. It means a three-day weekend and a chance for one last barbecue with friends and loved ones. It may even mean one last trip to the local pool or beach.
Unfortunately, Labor Day also means a weekend of drinking for many adults. It is one of the deadliest holidays for drivers. Rather than drinking and staying put, far too many people decide to drive themselves home after the holiday festivities. Statistics show that one person is killed in a drunk driving crash on Labor Day weekend every 34 minutes.
Law enforcement officials across Georgia are aware of the statistics, and partygoers can expect local LEOs to be out in full force for the holiday weekend. In fact, police are already out in higher numbers, keeping a watchful eye for anyone who may be operating their vehicle while impaired. Thanks to these targeted enforcements, drunk driving related deaths decrease, on average, by 20 percent.
MADD has put together a list of tips for anyone interested in having a safe Labor Day party. Here are some of those tips with a few additions of our own.
1. RSVP
As part of a guest's RSVP, have them outline their plan for a safe way home. They may choose to hand over their keys and camp out on your couch. Maybe they will call Uber. Perhaps they will take advantage of public transportation. No matter what the plan is, the mere fact that your guests are asked to come up with one will help to ensure they don't drink and drive.
2. Choose the Right Snacks
It can be tempting to grab a few bags of chips and pretzels to set out for your guests, but you would be better off avoiding these kinds of treats. Salty snacks will make your guests thirsty and ultimately drink more. Opt for snacks that won't make your guests reach for their bottle. Things like fresh fruits and vegetables and even cheese can be a better choice.
3. Offer Mocktails
The Internet is a great source for amazing mocktail recipes. Your guests won't even realize they aren't drinking alcohol. You can also offer an assortment of sodas and sparkling waters for your guests. Remember that even though you are having a party, not everyone will want to drink alcohol. Also keep in mind that anyone who has chosen or been volunteered to act as a designated driver will still want something to quench their thirst.
4. Don't Push
Hosting a party means that you are in charge of making sure people have a good time, not that people get stumbling drunk. Don't push drinks on anyone. If someone wants an adult beverage, great. If they don't, perfect. If someone is drinking and they cut themselves off, don't try to talk them into drinking more.
5. Know When to Say No
By saying "no," we mean telling someone they can't leave your home. It's important to understand that if you know someone is drunk and allow them to leave your home behind the wheel of a car, you could also be held liable if they cause a wreck. Don't let anyone leave your party drunk if they plan on driving themselves. Grab their keys, pull a few blankets out of the linen closet and toss them a pillow.
6. Keep Them Busy
Chances are you will be planning a few activities to keep your guests busy, so make sure you plan some that will keep them occupied for more than a few minutes. The better a time your guests are having, the less likely they are to stand around and drink. Come up with activities that don't involve alcohol at all and will engage everyone.
7. Know Your Limits
You aren't going to be able to keep an eye on your guests if you are too drunk. Watch how many adult beverages you are consuming. If you and your partner are throwing the party, one of you acting as the sober party is always the best idea. When someone stays sober, they are better able to ensure that all the guests are safe.
Partying on Labor Day doesn't have to mean that someone gets arrested or in an accident. Follow the tips above to help make sure everyone gets home safely, whether it is directly after the party or in the morning.
If your loved one has been killed in a drunk driving accident, you have rights. Call our Atlanta wrongful death attorneys today to learn more about the types of compensation you may be entitled to.