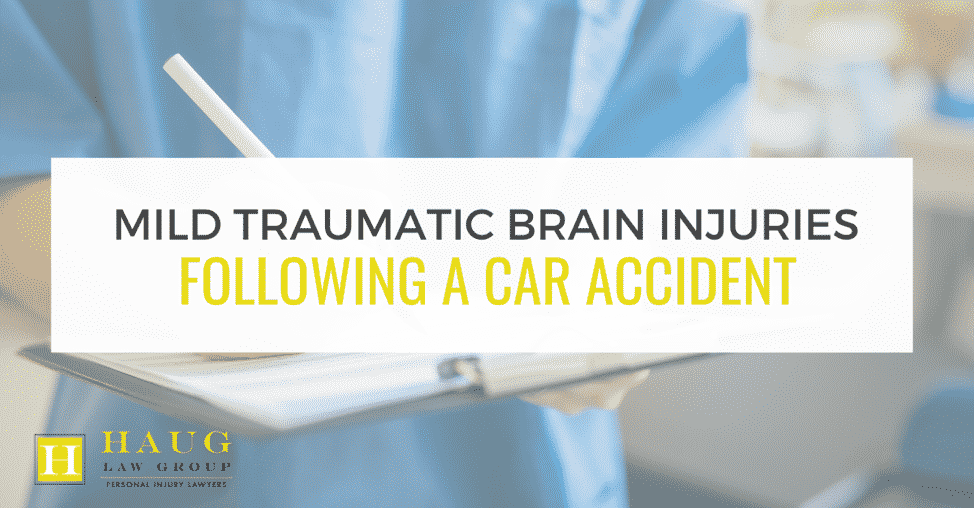 It is very common for brain injuries to occur following a motor vehicle accident. In fact, most traumatic brain injuries stem from motor vehicle accidents. Traumatic brain injury (TBI) is damage to the brain from immediate impact to the head. Did you know it is estimated that as many as 600 of every 100,000 Americans are affected by a traumatic brain injury every year, resulting in approximately 1.4 million visits to emergency department yearly, (Hartvigsen, et al.)? Keep reading to learn more.
The symptoms of a mild traumatic brain injury (MTBI) vary from person-to-person, however, the most common symptoms as recorded in this journal are as follows:
Sleep disturbances
Tiredness
Dizziness
Forgetfulness
Depression
Vision problems
Hearing problems
Headache
Neck pain
Mid back pain
Low back pain
Not only do these symptoms tend to linger for potentially several years, if not indefinitely, after a motor vehicle collision, but "Being involved in a motor vehicle collision and sustaining an MTBI has a significant negative effect on a person's health status," according to a year-long study was conducted surrounding individuals that have experienced a traffic-related traumatic brain injury (Hartvigsen, et al.)
Regarding the symptoms of a mild traumatic brain injury, this study found that the aftermath of a motor vehicle collision can, and likely will, lead to an overlap in injury symptoms. Stress to the neck, whiplash, mechanical injury, and spine discomfort are all related in terms of "persistent headache, spine pain, fatigue, and sleep disturbances," which are common symptoms of a mild traumatic brain injury (Hartvigsen, et al.). This study also analyzed the location of injuries on the body and how the pain and symptoms have the potential to linger in more than one anatomical site.
According to this study, some individuals who were involved in a car accident and suffered a mild traumatic brain injury "do not seek any care while others seek care for symptoms in the primary health care sector through family physicians, physiotherapists, chiropractors, massage therapists, or others for symptoms relating to MTBI" (Hartvigsen, et al.). The methods and urgency of recovery, like the symptoms of MTBI's, vary from person-to-person and depend on the severity and frequency of the symptoms they experience.
It is important to seek help after suffering any kind of motor vehicle collision, but extremely crucial to treat brain injuries. Pain in the head, neck, spine, mid and lower back, anything affecting your senses, and anything affecting how you carry on in your daily life should not be taken lightly. While it is easy to dismiss a headache or feeling tired, keeping track of the frequency of these symptoms, as well as any others resulting from being involved in a motor vehicle collision, is imperative to your body's health and for your future.
Not only should you seek care for your injuries, but you should also be compensated for suffering an injury you did not expect. Contact one of our personal injury lawyers today and get your case the justice it deserves!
Hartvigsen, Jan, et al. "Mild Traumatic Brain Injury After Motor Vehicle Collisions: What Are the Symptoms and Who Treats Them? A Population-Based 1-Year Inception Cohort Study." Archives of Physical Medicine and Rehabilitation, vol. 95, no. 3, 29 July 2014, pp. S286–S294., doi:10.1016/j.apmr.2013.07.029.