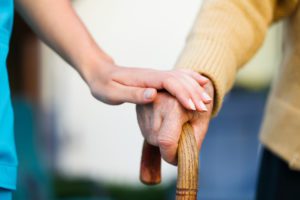 Choosing to place a loved one in a nursing home or assisted living facility can be difficult. You don't want to force your elderly family member to give up their independence, but you know it is no longer safe for them to live on their own. But what if it isn't safe for them to live in the nursing home?
Many nursing homes operate with the utmost care and safety. Unfortunately, not all employees of nursing homes abide by policies and procedures, and not all care for their patients as they should. Abuse occurs in these centers far too often at the hands of the staff entrusted to providing care. At times, it's the residents that are abusing one another while staff turns a blind eye.
It can be difficult to realize that your loved one is suffering in a nursing home or assisted living facility. You will feel guilty even though you did nothing to cause or encourage the abuse. You will wonder what steps to take and how you can help your loved one. Being able to recognize the signs of abuse is the first step to helping your family member.
Types of Abuse
There are different forms of abuse in a facility. Not all abuse is striking or kicking a patient, though some certainly is. Here are the types of abuse that are most commonly seen in nursing homes.
1. Physical
This type of abuse involves shoving, hitting, kicking, pushing or excessive restraint. It is the harming of a person's body in some manner. This type of abuse comprises about 30 percent of all abuse discovered in nursing homes.
2. Neglect
Neglect is also a form of abuse, though it may go unrecognized. When a resident is neglected, they may not have their basic needs attended to. They may be left hungry or thirsty, they may not be bathed or they may not be given medication as prescribed. This type of abuse accounts for about 15 percent of all abuse cases.
3. Emotional or Psychological
This is an intentional infliction of emotional stress. It may include taunts or continued neglect. Your loved one may appear depressed or fearful. This is often the most difficult type of abuse to detect.
4. Resident to Resident
This type of abuse accounts for about 22 percent of all complaints. Nursing homes are tasked with the duty of making sure their residents are safe, including from one another. This type of abuse may be physical or emotional.
5. Financial
It is unfortunate, but nursing home workers have been discovered to be taking advantage of residents in a financial way. They may steal outright or convince the resident to provide them with money or other gifts. Identity theft also falls under the umbrella of financial abuse.
6. Sexual
Sexual abuse may be at the hands of nursing home staff or other residents. Elderly women experience sexual abuse at higher rates, but male residents are also victimized.
Recognizing Signs of Abuse
Recognizing the signs of abuse is not always easy, especially when the signs are not physical. Nursing home residents who are being abused may display:
Unexplained bruises

Wounds that cannot be explained easily

Depression or other changes in mental state or behaviors

Slowly draining bank accounts or large amounts of missing money

Confusion

Sleeplessness

Anti-social behavior or a fear of leaving their room

Frequent complaints
If you believe that a loved one may be the victim of abuse at a nursing home, it is important to listen to what they are telling you. While some seniors will certainly complain only because they are living in a way in which they do not prefer, other complaints are more serious. If you notice signs of abuse, do not be afraid to speak up.
When a person suspects that a loved one is being abused, they should contact The National Center on Elder Abuse for assistance. This agency will advise you how to proceed if you feel as though your loved one is in trouble. Keep in mind that you may not be the primary caregiver of your elderly family member, but you are often their first line of defense. Do not be afraid of getting someone in trouble due to a false allegation. If your loved one is found to not have been abused, no one will have anything to worry about.
Contacting the agency is not your only option. You can also reach out to our team of experienced nursing home abuse attorneys in Atlanta. We will discuss your loved one's situation with you during a free case evaluation and advise you of your legal options. Call today to schedule your consultation.