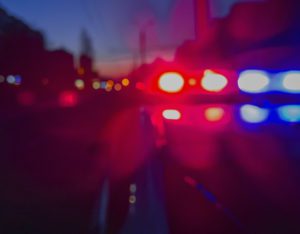 A driver is facing several charges after sideswiping a police cruiser. The driver was traveling eastbound when he struck a stationary patrol car that had its blue lights activated.
According to reports, a Roswell police officer was offering assistance to the local fire department. The officer had activated his overhead lights and parked his patrol car in such a way that eastbound lanes of traffic of a local roadway were blocked. As the officer was rendering assistance, he was struck by a passing vehicle.
The driver of that vehicle apparently did not notice the flashing lights of the police car and struck the cruiser with his own vehicle. The man was approached by the officer who had been blocking traffic and was asked to perform a set of field sobriety tests. The man complied with the tests and was arrested after those tests indicated he may have been impaired.
The man was ultimately arrested and charged with driving under the influence, failure to maintain a lane and a violation of the state's move over law. No one was seriously hurt in the accident and no further details of the incident were made available.
If you have been in a car accident in Atlanta and the other driver was found to be impaired, you have legal rights. Reach out to our team of experienced car accident attorneys to discover more about your legal rights under Georgia law. We will review the details of your accident and help you seek the compensation you are entitled to.