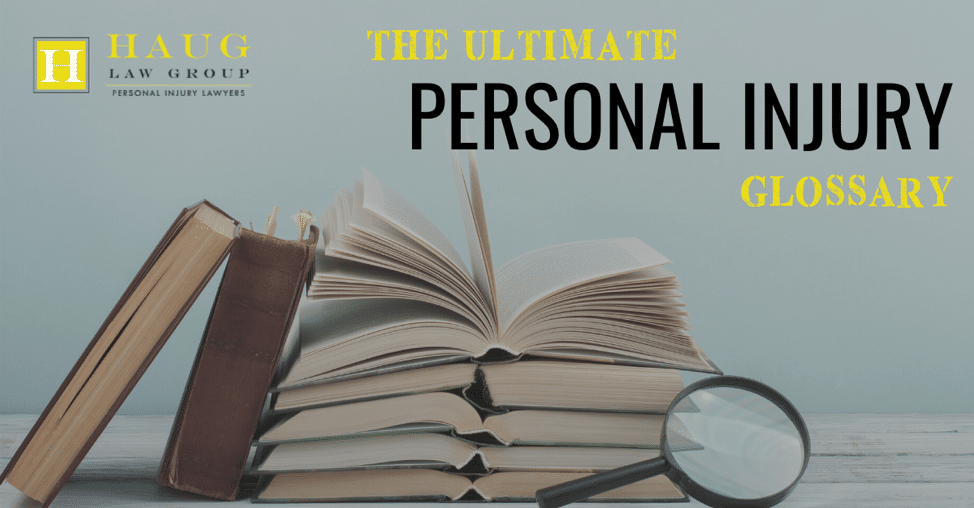 Have you ever heard a law-related term that you did not understand? I think we can all say we have! Different things have different meanings when it comes to the realm of personal injury. Have no fear, Haug Law Group is here to define each and every term you need to know about personal injury law. Keep reading to get started!
Adjudicate
To adjudicate means to make a formal decision about an issue or matter at hand.
Claim
A claim is a legal demand given by a person who is seeking compensation for an injury or a loss.
Class-action Lawsuit
This entails that legal action has been filed against a defendant by a group of individuals.
Compensation
Compensation is the term used for what is awarded, typically money, for a personal injury, suffering, or a loss.
Damages
This is the amount of money that is being awarded to the plaintiff during a lawsuit.
Defendant
The defendant is the individual in a lawsuit that is being accused or sued in a court of law.
Gross Negligence
Gross Negligence refers to the extreme situation of carelessness and being held liable for it.
Liability
Liability is when someone or something is held responsible by law for an action that caused an effect on another person, group of people, animal, and more.
Medical Malpractice
Medical malpractice takes place in a professional health care area when a hospital, hospital staff, or doctor causes an injury to a patient through negligence.
Negligence
This is another word for carelessness. Negligence refers to the lack of proper care to someone or something.
Plaintiff
The plaintiff in a legal case is the individual or group that is seeking compensation and suing the defendant for wrongful doing, injury, and/or suffering.
Settlement
Reaching a settlement means to come to an official agreement and decision on a case. A settlement can also refer to a specific amount of money, or compensation, during the resolution of a personal injury case.
Statute of Limitations
A statute of limitations entails the specific time period to which someone can file a personal injury claim. In Georgia, the injury case must be filed within two years of an incident.
Verdict
A verdict is a term for the decision being made by the jury on a disputed issue.
Worker's Compensation
Worker's compensation refers to the requirement for an employer to pay or provide insurance to pay for an injury that occurred on the job, as well as the lost wages and medical expenses that resulted from said injury.
As you can see, there are plenty of law-related terms that you may have not known prior to reading this blog post. At Haug Law Group, we take pride in being experts on each of these terms. If you or a loved one has suffered from a personal injury, give one of our lawyers a call! We'll help you understand your case and get you the compensation you deserve!