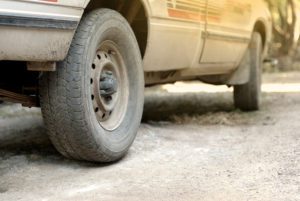 Authorities are calling it a "freak accident." Two early morning commuters were on their way to their destinations when the incident occurred, taking the life of one person and leaving another in shock.
According to reports, a man was driving his pickup truck in the northbound lanes of Georgia 400. The man was on his way to work when one wheel and tire flew off of his vehicle. The wheel went over the middle wall and landed on the windshield of a vehicle in the southbound lanes. The driver of that vehicle, a woman, was killed as a result.
The driver of the pickup truck is not, at this time, believed to have done anything wrong. It is not known why his wheel came off. The man remained on the scene of the accident and spoke with reporters. "I was on my way to my job. I'm not drunk. I'm not driving fast. It was like a normal (day) trying to get to my job." The driver expressed remorse.
The incident caused the highway to be backed up as officers investigated the scene and cleared debris. Morning commuters experienced congestion as they waited for traffic to return to regular flow.
If you have been involved in a car collision in Atlanta, you have legal rights to compensation. Reach out to our team of experienced accident attorneys today to schedule an appointment for a free case evaluation. We will review the details of your incident and help you take the next steps.