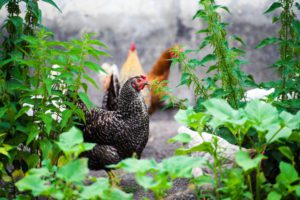 Many people have personal convictions about what they will and will not eat. However, these convictions do not often result in violence or crime. One local woman from Hull, Georgia (northwest of Athens) took her convictions to the next level when she took action against a chicken truck.
The driver of the truck was driving westbound on Highway 72 when a red sedan slammed into the side of his vehicle. He pressed on his brakes, but the car came a second time and hit him again, causing the car to spin in front of the truck. The car driver then fled. The truck driver had a basic description of the driver — a woman with shoulder-length red hair — and called the Madison County police.
However, in the act of slamming into the truck, the driver left her license plate. This led the police to a home on Comer, which when they first arrived was abandoned. However, on the second attempt they found both the car and the woman who matched the truck driver's description, later identified as 26-year-old Judith Moriah Armstrong.
The police attempted to get her to come out, but she refused unless they had a warrant. However, she did talk to the officers through the window. During that conversation, Armstrong told the officers that she had slammed into the truck because it was carrying chickens, and she was vegan. She saw the truck on her way home and hit it.
She did say she was sober at the time, but took a couple shots of alcohol when she got home. Once the police officer finally got a warrant, they arrested Armstrong, and in jail she blew a BAC of 0.089. She was charged with aggressive driving, obstruction, hit-and-run and driving under the influence.
The truck driver was unharmed.
If you've been injured in a hit-and-run car accident in Atlanta, you have legal options. Contact Haug Law Group today for a free case evaluation.