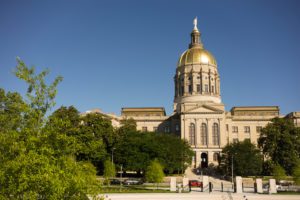 Kasim Reed, mayor of Atlanta, has been in some hot water in the past few months due to his use of using vehicles with sirens and blue lights to get around the city. While some law enforcement officials say it's clearly illegal, as doing so is not for an emergency situation, Reed says it is for security purposes. While that issue is still under investigation, a related problem has been brought to light by a whistleblower.
A former city police manager recently filed a lawsuit that claims the City of Atlanta used federal money that was supposed to be used to buy police cars to instead buy vehicles used for Reed, and she lost her job for reporting it. These are the same vehicles that are outfitted with blue lights and sirens to chauffeur the Reed family around Atlanta.
The whistleblower claims that, when she found out about the misuse of funds, she brought the issue to the attention of former police chief George Turner. Shortly after, she was laid off, and the position of city police manager was eliminated altogether. On April 5, she filed her lawsuit against the City of Atlanta.
Within the lawsuit, she also accuses Turner of using federal money, as well as money from drug seizures, to pay for overtime for police officers instead of using it for the special programs for which it was earmarked.
The plaintiff in the case says she wants her job back and back pay, as well as an unspecified amount of damages. The city says the manager was fired for not reporting grant funds and expenses appropriately.
While this lawsuit is being pursued, Atlanta is also involved in a federal criminal investigation. According to authorities, two contractors allegedly paid over $1 million in bribes in order to influence city contracts.
Whistleblowers, whether revealing information about their private employer or the government, have a right to not face punishment for doing so. If you have faced retaliation for whistleblowing in Atlanta, contact the attorneys at Haug Law Group today for a free consultation.