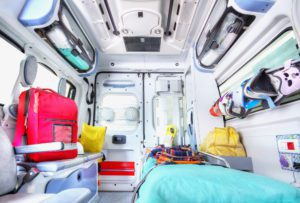 In January of 2015, a man named Johnny Lee Bryant was living in The Place nursing home in Augusta, Georgia. He was sent to Doctor's Hospital to be treated for sepsis and pneumonia. There, he was treated by Dr. Hetal Thakore from January 8 to January 15. During that time, it was noted that Bryant, 54, was also suffering from end-stage renal disease, stroke, diabetes, numerous pressure sores and malnutrition.
When he was discharged, his pulse and white blood cell count were elevated and his blood pressure was low. Instead of being taken back to The Place, he was instead taken by Gold Cross ambulance to a nursing home in Bainbridge, Georgia, more than 300 miles southwest of Augusta. When they finally arrived, the nursing home refused to accept him.
The ambulance then turned around and brought him back to Augusta. During that ambulance ride, over 12 hours long, Bryant was in severe pain but received nothing more than aspirin. Shortly after arriving back in Augusta, he was transferred to University Hospital. It was there that he died on February 10.
Now, Bryant's sister and administrator of his estate, Mary B. Taylor, is filing a lawsuit against Dr. Thakore, Gold Cross and Doctors Hospital. In the lawsuit, Taylor is accusing the defendant of causing emotional distress, negligence and causing wrongful death.
Doctors Hospital has not commented on the lawsuit. Gold Cross Chief Financial Officer Frank Lindley said the company has not received the lawsuit yet. Until then, his company will not comment on the case.
If you are dealing with the death of a loved one due to someone else's negligence or actions, you are not alone. Though no amount of money can bring your loved one back, it can ease your financial burden and ensure the perpetrator never acts in this way again. Contact the Atlanta wrongful death attorneys at Haug Law Group today for a free consultation.